---
Ultimate Tech Signature
In this tutorial made by KillSpan he will teach you how to create the following tech signature: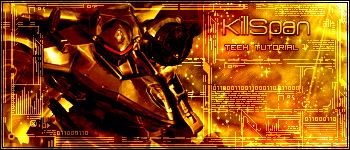 Its really not full tech, because you need to have other brushes, both abstract and grunge, under the tech so it shows up well.
Step 1: Create the background
First you need to start off a sig. Go to File>New. I choose the dimentions 350x150 pixels, but you can have a different size if you want.
Now we are going to add a cloud effect to our background. Make sure your colors are on black and white and go to Filter>Render>Clouds.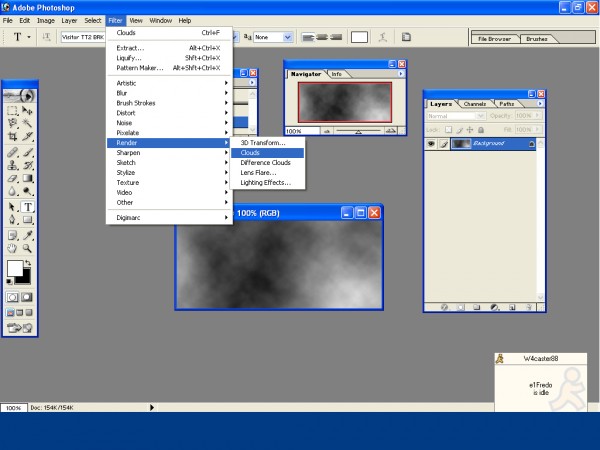 Step 2: Brushes
Now again you need to use some brushes. Here are some of the brushes i used to make the following tech sig
Now i bet your wondering when to use all these brushes, well you gotta go in order or otherwise it won't look good.
First off, you need to use the Rust and Grunge brush, brush in alternating black and white colors for about 3-6 layers. So brush one layer black, then the next layer brush white. It will help the sig to have some virety of colors to start off and it won't look plain.

Step 3: More brushing
Now it looks like a grunge sig, but now we are going to add in some abstract brushes to make it look good. Use the abstractTieskevo brush in this step, but you can also use other abstract brushes, like the WW-sets.
Form here keep brushing using the abstract brushes. Use again alternating black and white colors for layers with one being black and the next one being white. Don't over do it too much though, just use 2-3 brush strokes per layer, and remember if you think a brush shows up too much on the sig, you can always do soft light on the layer or lower opacity to make it show up less. Use about 5-10 layers for this step

Step 4: Find a render
Now here is where i find a render and put one in.
There are certain renders you want to look for when making tech sigs. Mech's and vehicles are normally the way too go, but you can also have robots, C4d's and other renders that can look well with tech brushes. Its really up to you, normally the render will have you thinking "man this could really good for a tech sig". If not then probally better not to use it. In this signature, i used a mech.
First of all i got the pic as a png. I don't like to get jpg pics because you have to cut them out, sacrificing quality. png's are very usefull, cuz they are already cut out for you as a layer and all you have to do is place it in your sig.
Add your choosen render into the signature.
Step 5: Blend your render
Now you need to add some effects to the render in order to blend it in the sig. You will first need to downsize the render in order for it to fit well in the sig. To do this right click the render and use the free transform button. Then just use the little markers to downsize the render. Hold down shift while doing this!!
Now after your render is sized well, now you need to blend it with the render. In this case, while selected on the render layer, hit Ctrl+U. That will bring you up to the Hue/Saturation box. What i do normally his reduce the saturation to nothing, and that will make the color black and white like the sig. In this sig i decided to reduce the saturation but not all the way, so the render could maintain some color.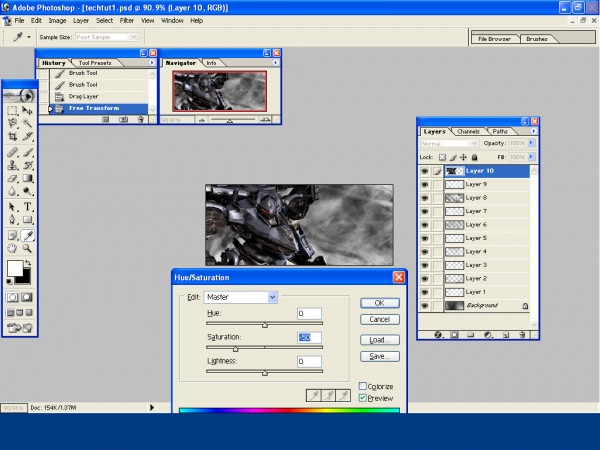 Now finally, i would like to blend in the sig further by using a technique with the laso tool. First you need to use the magnetic laso to cut around the sig. Go around the sig but don't be too carful, you just want to loosly go around. After you are done, go to Select>Feather and set the feathering range to 20 pixels. That will smooth out your laso so it looks like a oval like object.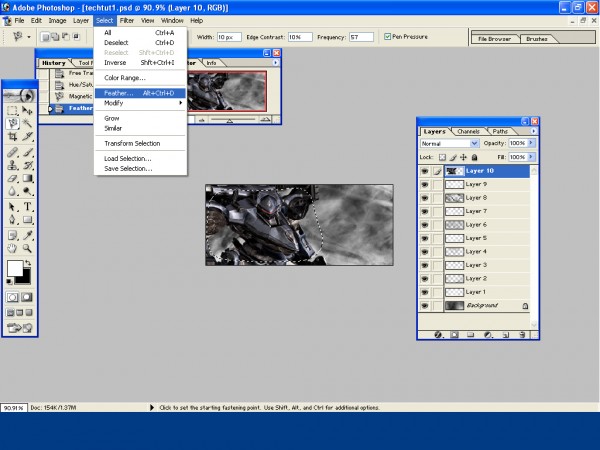 Now after this you need to go to Layer>Add Layer Mask>Reveal Selection. Now your render looks like it is blended at the edges to the background.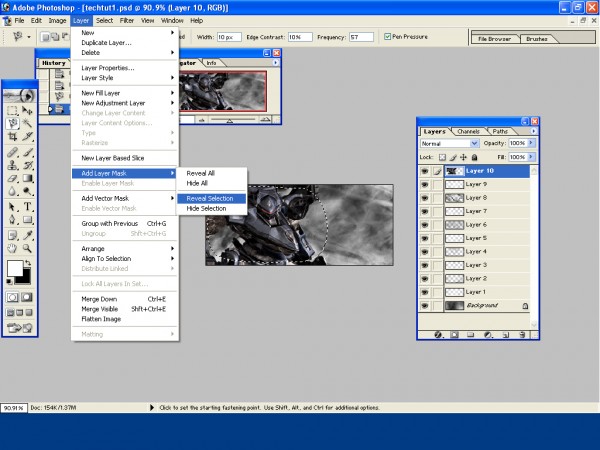 Your render almost is done, unless you want to add in some more effects to make it look better. In this case I went under the render layer to blending options. Then i did some drop shadow to make the render stand out more. Again this is just my preference and you don't have to do this part
Step 6: Adding color
Now its time to add some color. To do this we need to put a color balance layer. Go to Layer>New Adjustment Layer>Color Balance. Pick colors that work well together so that it will have a nice look to it. I used an orangish yellow in this sig, by using yellow and red to make that color. Do about 2-3 color balance layers.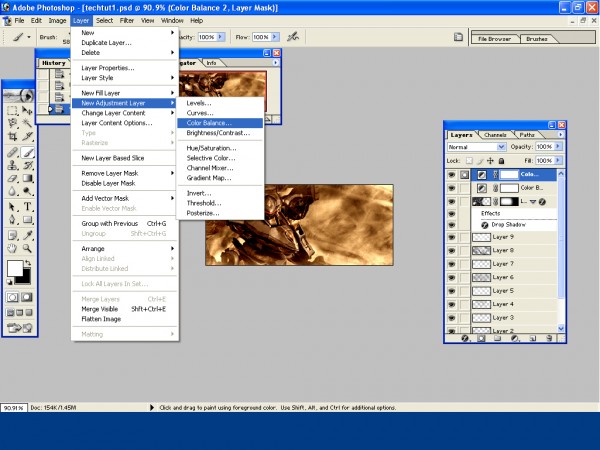 Step 7: Some special effects
Now here is where i use the Night Sky brush. I make a layer UNDER the render layer and then i use about 1-2 layers of brushing. Make sure they are all white, because black doesn't show very nice stars and thats what you are trying to get.
Note: i accendentally put the brush before i but the color blance, but its better if you put the night sky brush AFTER the color balance layers, this pic is suppose to have color but unforutunatly i took this pic at the wrong time, sorry.

Step 8: Multi-coloring
Next up you want to try adding in a little multicolor. You don't have to do this step if you are content with how your sig looks already. However if you think the color look too plain then give this a shot.
Make a new layer above all the other layers (including the color blanace layers). Now pick a color that looks good with the colors already in the sig and brush using a grunge brush. Also make sure your layer is on soft light, that will blend better with the other colors. Now go ahead and brush.
Do about 3-5 layers, but you might want to do more if you are going to put many colors in the sig.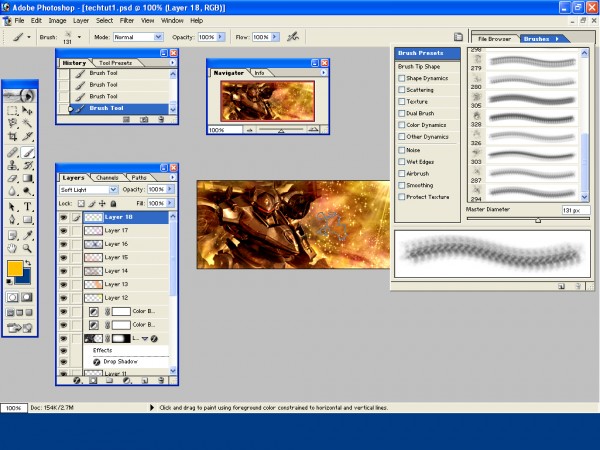 Add another 2-3 color blance layers on top of your multicolor layers
Step 9: Add a border
Let's add a border
Here is how you do it:
First, create a layer above everything even the color blanace
Then, right click>select all
Right click again>stroke
Now first have color black with a 3pxl boarder. hit ok
Repeat steps a-c
Now this time do a 2pxl boarder and under mode click clear. hit ok
Again repeat steps a-c
Now this time do 1pxl and have it black with the mode of normal again. Hit ok
And thats it, you just made a good 3px border!
Step 10: Tech brushing
Now the step you have all been waiting for tech brushes!!! The key with tech sigs is placement, and if you don't place it right, the sig will look ugly.
This is where you use the big 200 tech brush sets. When you make the layers you want to place them just under all of the color blance layers, and under the render layer. You also want about 2-5 layers of tech brushing.
First you want to have the color as white, but we are going to edit the opacity of the layers to a number from 35-50%. That way the color is something that is similiar to the color of the sig. Before you do any brushing yet going into blending options, and drop a shadow. Here are the settings you should use: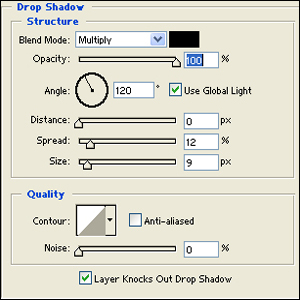 Now we can start brushing. Start from around the boarder and work your way in. DO NOT OVERCROWD THE SIG. Its alot better to just to tech brush around the corners then just do the whole thing. Here is how it works. Try to match up lines in your tech brushes so it looks like one big tech brushes.
In reality its just sveral brushes put together, but it looks nice and smooth. Some of the brushes will be useless because they don't go well together but others will work well, just keep attatching them piece by piece, and try to go around the render, not over it.
Other then that your on your own, i know its difficult but you have to just keep trying to see what looks good what doesn't. Its all about how much effort you put into it. If you work hard you effort will be paid off.
Note: Tech sigs normallay take alot longer then abstract or grunge sigs. Thats because you have to do precise postions, because anything thats just a little off will not look good. Don't be worried if its taking you a while.
Just the tech part for me took about an hour to do:

Step 11: The text
Now lets do some text. I normally use for a tech sig something that is pretty thin, sorta like the tech itself. In this case i used Acens text because it went well with the tech. The text color needs to be white and under all the color balance layers, but above all the tech layers.
Notice how i left room to put my Name in the tech, don't forget that when putting all the tech brushes. Now when modifiing my text have the anti aliasing on anything but none. Use some blending options like gradient, stroke, and bevel. Try to make it looks like it fits in with the tech.
When doing the subtext, use a font like Visitor and put the size on 12 and anti alasing on none. Then add similiar effects to the subtext, except bevel, cuz that will make it look grainy. Here is what i got with my text.

Step 12: Final checks
Well you have come this far and you are almost done, the only thing left to do is check over your work to see if there is anything you need to edit, i see my tech brushes are a bit too bright, so i will lower the opacity a bit. I also added a brightness/contrast level to make the colors stand out a bit more.
And thats it, you know have an awsome tech sig to show off to the world, here is the final result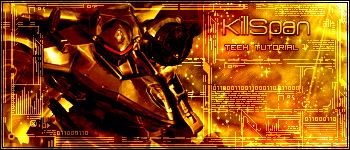 I hope this help out everyone to make that tech sig you have been dreaming of.
Tutorial and signature by Killspan
68 Responses »

Trackbacks
Leave a Comment