---
A complete guide to smudging
Don't you just hate it when you read a tutorial and it says "now smudge your layer" without the tutorial writer ever explain how to smudge and what settings to use?

After reading this guide you will no longer have problems with this, just apply the things I will teach you in this tutorial!
I will first explain the basics of the smudge tool.  After that I will show you some great smudge settings which you can use right away.
I will also show you how to create a base layer, this is the layer you will use the smudge tool on and it will strongly determine the way your smudging will look like.
At the end of the tutorial  you will learn a couple of great techniques to enhance your just made smudge layer.
The smudge tool
Before we start lets give a definition of what the smudge tool does:
The transfer and manipulation of pixels, due to simulated abrasion or rubbing of a brush, to an adjacent area of the canvas
Sounds complex doesn't it? Well actually it really is just some dragging with the mouse and photoshop does all the hard work so lets get started by exploring the smudge tool and its options!

Select your smudge tool.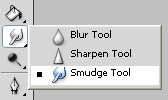 After you have selected the smudge tool, you will notice a new bar in photoshop:

Using this toolbar you can change the way the smudge tool behaves, press 1 to load a different brush to use. Some brushes work great with the smudge tool, while others will look horrible.
The strength (2) will determine how much of the base layer is smudged, and how much is untouched when you use the smudge tool onto it, here is an example:

The original picture

A picture with 10% strength selected, notice how you can still see details of the original layer.

The same picture, but now I used 100% strength, now you can hardly see any details of the original layer!
In this tutorial we will use the brush manager (press F5 to open it) to change the advanced smudge tool settings, the brush manager looks like this: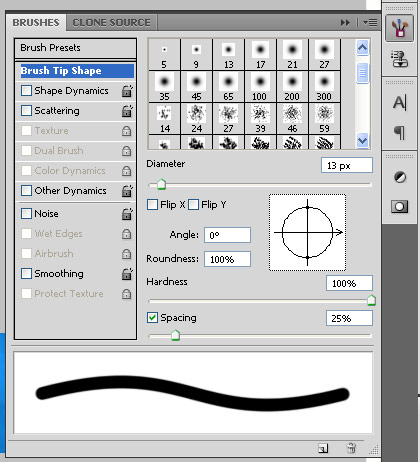 Note: photoshop 7 does not have the scattering function, which we will be using a lot so if you want this function its time to upgrade!
Using the smudge tool is really easy, but mastering it takes a lot of practice. To smudge simply right click somewhere on your canvas, and drag your mouse a bit. You can simply click one time and keep dragging your mouse around the canvas, or make lots of clicks by dragging your mouse just a little bit every time. Just try what works for you!
What to smudge
Before you start smudging you will need a layer to use your smudge tool on, although this could be anything I have found out that some things work great every time! Here are some ways to create a base layer to use the smudge tool on.
A cloud layer
Select black as your foreground and a different color (for example: red, blue, yellow) as your background color. Now go to Filter > Render > Cloud to add some random clouds on your layer.

A stock
What also works great as a base layer for your smudging is some cloud stocks, you can find these images everywhere for example on google. Or one of my other favourite types of stocks to smudge, a star field.

A render
Although the above base layers are great, you will sometimes want to give your smudge layer the same colors as your render. Of course you could do this using various recolouring tools, but why not just smudge your render? This way you will be sure that your smudge layer always has the same colors in it as your render!
What I always do is paste in my render (don't resize it yet!), duplicate the render a couple of times and move the different duplicates around so it fills up your canvas. After you have done that simply select all layers, right click and select merge layers.

Smudge settings
By now you should know how the smudge tool works, and how to create a layer to apply the smudge tool on. Time to show you some of my favorite smudge settings!
To use these settings first create a base layer, after that select your smudge tools and set the following settings in the brush manager (f5 to open it). After you are happy with the settings just smudge away!
smudge settings #1

The result of combining the photoshop cloud filter and the settings below
Smudge strength: 50%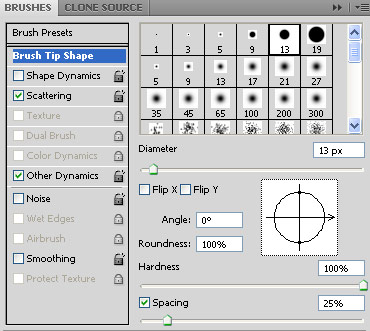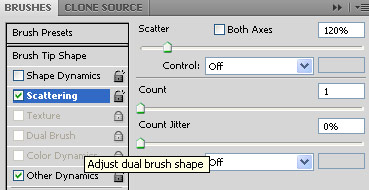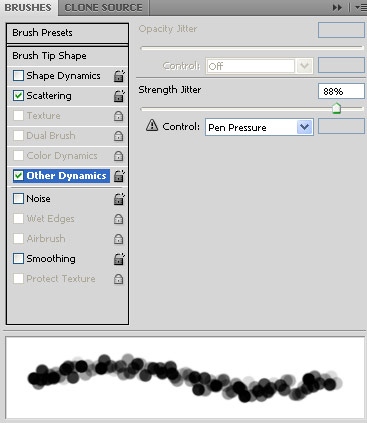 Smudge settings #2

A combination of a star field stock from google and the smudge settings below
smudge tool strength: 50%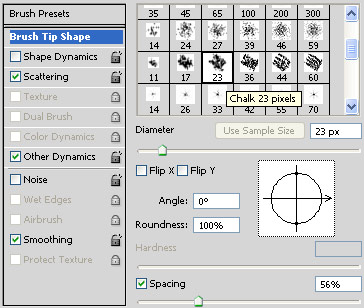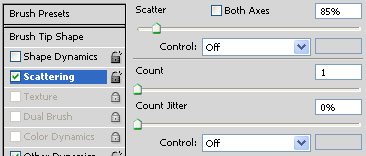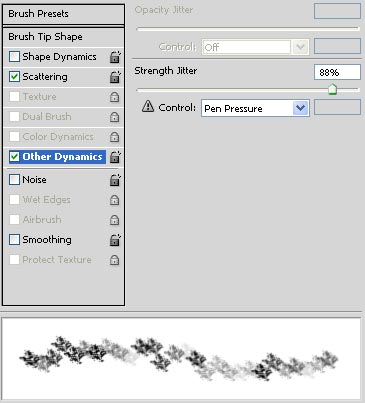 This are just 2 great smudge settings, you can find more settings in the other smudge tutorials posted here!
Of course there are a million more possibility's and I suggest you to experiment using different brushes and settings to create your own unique set of smudge settings. Just play around and experiment, thats how I found these!
Enhancing your smudge work
After you are done smudging there are many ways to enhance your smudge layer, lots of different technique's are explained in the other smudge tutorials on this website, in this section I will list the most useful ones.
Sharpening
Go to Filter > Sharpen > Sharpen to sharpen your smudge layer, you can also use the sharpen tool to only sharpen some areas of your smudge layer.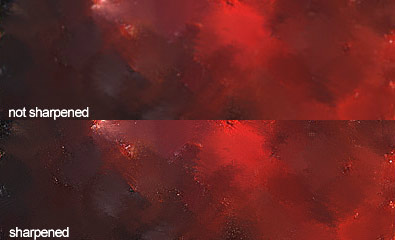 Brightness and Contrast
Go to Layer > New Adjustment Layer > Brightness/Contrast to enhance the brightness and contrast of your smudge layer, with this step you can make the colors much more vibrant!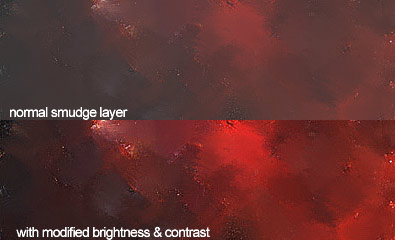 This is the end of the tutorial, by now you should have the knowledge to create beautiful artwork using the smudge tool. But as with all good things in life, you still need to practice a lot to get really good at this. Just keep trying and playing around in photoshop!
Do you have some great smudge settings? Feel free to post them below in the comments or to show any signatures you made using these settings!
36 Responses »

Trackbacks
Leave a Comment