---
Ripple and Smudge Tutorial
In this beginner signature tutorial you will learn how to make a nice looking signature using the smudge tool and some filters.
The final result of this tutorial is the following signature:

Download the .psd
As a Premium member you can download the .psd file of the signature
It is fully labeled, this way you can exactly see what I did when creating the signature, even steps that I didn't explain in the tutorial.
Never again you will get stuck because you don't understand something in the tutorial, just take a look inside the .psd file and boost your signature making skills with new technique's and ideas!
Click here to learn more about Premium membership
Creating the background
Start of by creating a new photoshop document (ctrl+N) 380px by 130 px and fill the first layer with 434343:

Now you will need to find a nice looking render. Try to search one that is off high quality and with some nice action and flow in it, I picked the following unreal 3 render. Open it inside your photoshop document.
Saving Renders
Renders often have a transparent background and are saved as .png files. To preserve the transparency you will first need to save the file locally on your computer, before you can open it in photoshop.
Duplicate your render layer, hide one of the two layers and call it "render backup". We aren't going to do something with it, its just to make sure we will have a backup of our render in case we might need it later. Take the other layer (dont resize it just yet!) and place it in a corner.
Now make it black and white (aka desaturate it) by pressing CTRL+SHIFT+U.
Go to filter -> disort -> ocean riple. Use a ripple size of 8 and a magnitude of something like 4, press ok and your signature will now look something like this:

Remmeber the layer with your render on it which we saved? Time to use it! Duplicate it (right click > duplicate) once and resize it so it fits your signature nicely.
Take out your Erasor tool (E) and select a soft brush of around 100px and slightly erase the outlines of your render to blend it in. Call this layer: "main render"

Now we are going to create the cool looking background so pay attention!
Background Effects
Duplicate (right click > duplicate) your "main render" layer 2 times, place these two layers underneath your "main render" layer in the layer pallet and hide one of the two copies for now.
Select the one that is still visible and go to filter -> disort -> ocean riple and again use something like a size of 8 with a magnitude of 4, experiment with these settings to get a different result.
Drag this layer to the left side of your signature and turn the blending mode on Color dodge with a fill of around 80% (this is done to get rid of the colors that are to harsh).


Now your signature should look something like this:


Time to start smudging
Now unhide the other render layer which we just made by duplicating, since we are going to smudge it.
Select your smudge tool (

) and then load the maple leaf brush (if you can't find it reset your brushes, its part of the photoshop default brushes) and use the following settings: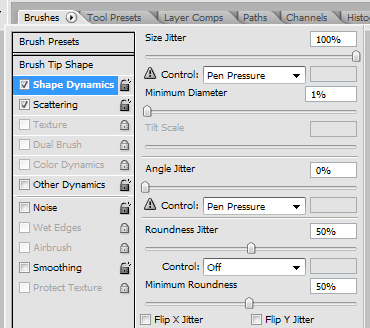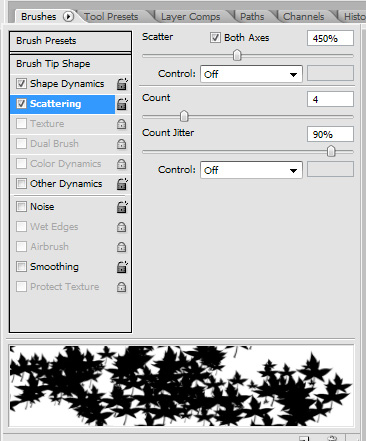 Set the strenght to something around 50%

and heavily smudge this layer. Once finished duplicate this render and move it around, your signature will now look like this:


I hid my render on this picture so I could easily see what I was doing while brushing, this is how it looks with the "main render" layer visible again.

Time for adjustment layers
Your background is now done, we are now going to adjust the colors to make it look good (don't worry if it looks horrible now, thats part of the idea), first I added a brightness and contrast layer (layer -> new adjustment layer -> brightness and contrast)with +20 contrast / +2 brightness between my render and the brushing layer to make it look better: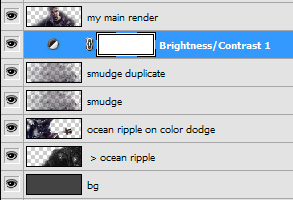 Notice how the colors are a bit cold and boring? Thats when a gradient maps (layer -> new adjustment layer -> gradient map) comes in handy, I added this one on top of all my layers to give everything some nice colors. I set the blending mode of the layer to Color Dodge and the fill to 40%

Flow and lightning
Notice how the right side of his head is brighter compared to the left side of his head? That must be because the light source is on the right. Add your own light source by taking out your brush tool and on a new layer brush once with a soft round brush, 300px and color white to get something like this: (lower the opacity of the layer if its way to bright)

Now create a new layer and this time select black as your brush color, brush on the sides of your signature, to make them darker and keep the middle unharmed. This will get you some flow like this (I duplicated this layer ones because one layer wasnt enough):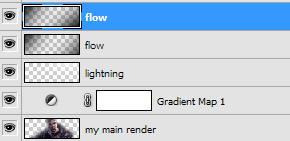 Now create a new layer (CTRL+SHIFT+N) and go to image -> apply image and press ok, after that go to filter -> sharpen -> sharpen. I also added an orange photo filter (layer -> new adjustment layer -> photo filter) in this step, this is optional and ofcoure use a color that matches the rest of your signature.

Now tweak your sig by adding more adjustment layers or whatever you like (a C4D render perhaps?) and then add your border and text. You can easily add a nice border by making a new layer and then image -> stroke, with the settings: 2px, inside and a black color.
This was my final result, I hope you learned some new stuff today and remmeber play around with different settings and try out new stuff!

203 Responses »

Trackbacks
Leave a Comment