---
Learn how to Smudge
In this beginner tutorial you will learn the basics of the smudge tool, one of the most important tools for a signature designer!
I will explain step by step how to make a signature like this:

Before you start, you need to download the render and brushes I used for this tutorial here.
Install the brushes to: C:\Program Files\Adobe\Adobe Photoshop CS2\Presets\Brushes
I also added the .psd of the signature, so if you get stuck in the tutorial you can open the .psd in photoshop to see what I did exactly, do not rip or clame it as your own though!
Ok now lets get started!
Creating the background
Go to: File>New and then Use the following settings: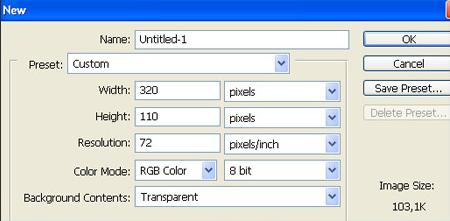 Then make your background color black and foreground color white by pressing D.
Now go to Filter>Render>Clouds untill it looks something like this:

Dont worry it doesnt really matter how it looks, because we will not see a lot of it in our final signature, but coulds are always and fast and easy way to get started with your background.
Make a new layer on top of your cloud layer with ctrl+N.
Now select the brush tool (shortcut=b) and a new menu on top opens in which you can select the brush you want to use. Press on the little arrow on the right, and in that popup press the other arrow which you can also find on your right. In this menu select the RustNgrunge brush which you just installed. Select white as your foreground color and make a nice white spot in the center of your signature where your render(the main image) will be. You can change the layer settings later if its to white. My sig now looks like this:

Now open the brush tool again and load the grunge brush, take any of the brushes and set your foreground color to black. Once you have done that create a new layer and brush a bit on the left and right of your signature like this:


Now we are going to add our render on a new layer. So open up the render I used, or find your own render (check out http://www.sigtutorials.com/forums/ for some great renders). Once you have done this duplicate that layer one time (right click on the layer > duplicate). Then hide the top layer by clicking on the little eye in front of it

Smudging
Now its time to smudge!
With the second, vissible render layer selected press R to bring up the smudge tool.
Then select the leaf kinda brush I also selected and set the Master Diameter to 32. (if you cant find the brush, reset your brushes, it wont delete anything, it will just list the default brushes).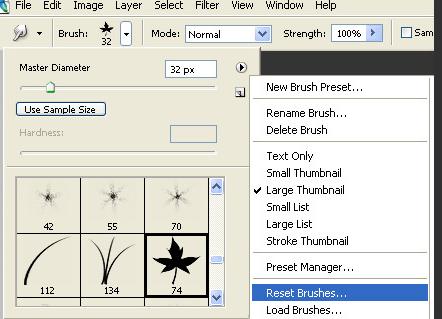 Now we are going to set all the settings for the smudge tool, you dont really need to follow my settings if you know what you are doing, and you can play a bit with them for different results. With the second render layer and the smudge tool selected go to the brushes menu on your top right and use these settings: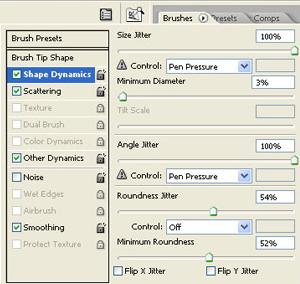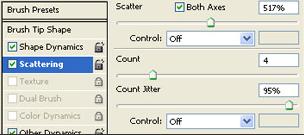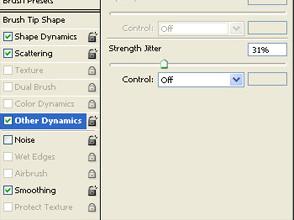 If you did it correct it will now look something like this:


Now you can begin to smudge the layer which you didnt hide by clicking on your render and dragging a bit, then release your mouse, click somewhere else and drag again. Repeat this untill it looks something like this:

Pretty ugly he? thats why why we do this:

And voila, looking much better now 🙂

Now make your first render vissible again and the sig should look something like this:


Now we are going to place some simple colors on the background, it can be done in a lot of ways, but this time I just choose the easy way and I put a color balance above the very first layer (with the clouds on it). Play a bit with the color settings until you think it looks nice.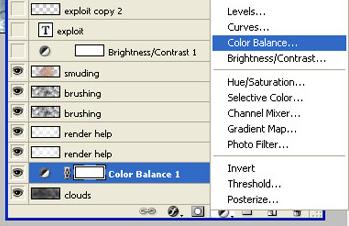 This is how mine turned out:

Add text, border and color
Now all we need to do is add some text and put a nice border around it.
First the border:
Make a new layer on top of every other layer, now press ctrl+A, and it will select your whole sig. Then go to Edit> Stroke and add a one pixel border around your sig, it looks best when you use a color that is in your sig.
Now on to the text, I didnt want to make the text to big, because we want people to look at the brushing and smudging, and not at the text. Make a new layer under your border layer and type your name. I used these settings:


Some general tips for the text:
-use a color that is in your sig,
-use a font that is easy to read
-And always use the Anti Anialising settings.
Now I used Edit> Transform > Rotate untill you get something like this, and put the text in a corner:



As you can see I also added a little butterfly on the dot on the i, just to give the text that extra touch.
This is how I did it:
1: rightclick on your text layer and choose Raterize Type
2: now zoom in and witht he Erazor tool (E) delete the dot on the i
3: make a new layer
4: Then I added the butterfly like brush (i think it comes with ps) and placed it on the right spot
If you did everything correct your sig will now look something like this and you are finished 🙂

In this tutorial you have learned how to:
-make a nice and simple background using brushes
-how to smudge
-how to make your text look good
42 Responses »
Leave a Comment