News
Changes and announcements regarding the main website will be made here, for more ST news check out our forums!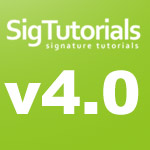 Category: News
Viewed: 3,691 times
Comments: 8 Comments
Welcome to the new version of sigtutorials.com!
I decided to redo the entire site with this version, sigtutorials is now powered by the great blogging software wordpress!
All old tutorials have been imported, and I'm working hard to get all the old functions back online in a couple of days. Expect a lot of downtime in the next few days while I add new things to the website.
If you got feedback, something is not working or anything else feel free to leave a comment below!
I'm looking for tutorial writers, if you want to help and earn  $ while doing this, send me a pm on the forums!