You are seeing this page because:
You tried to access a page that requires a premium account
or you would like to become a premium member!
Why should I join?
As a premium member you will support SigTutorials and in return for this you will get special privileges on both the main website and forums.
Here are some of the privileges you will get as an a premium member:
1. Get access to new and exclusive tutorials
As a premium member you get access to new tutorials that can only be viewed by premium members. These tutorials teach you new technique's that you don't find in our other tutorials.
2. Get access to the .psd files of the signatures you see in the tutorials
As a premium member you can download the .psd file of every tutorial. Every .psd file is fully labeled as you can see in the preview, this way you can exactly see what I did when creating the signature, even hidden steps and technique's that I didn't explain in the tutorial. Never again you will get stuck because you don't understand something in the tutorial, just take a look inside the .psd file see what I did!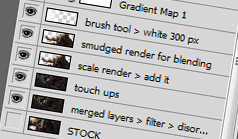 3. Get exclusive resources and downloads on the main website
The main website has a special section just for premium members, it is filled with both new and exclusive tutorials as well as downloads. Learn new and exclusive technique's that almost nobody knows!
Want to see what you are missing? Take a look here to see our premium member exclusives.
4. Get access to the premium forum section
As a premium member you will get access to an exclusive forum section just for premium members. Inside over a hundred of premium members share there best resources and technique's. Just have a look below to see a small preview of the section on the forums: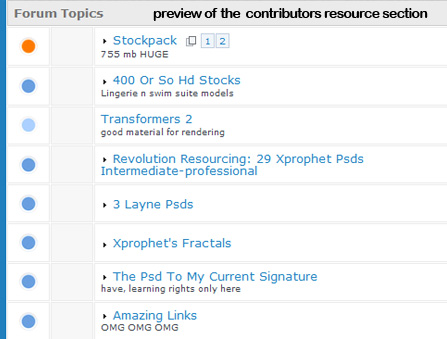 5. Download archived .zip files of every gallery
Want to save the renders and stocks in our gallery locally for later use? Using your premium member account you can download a .zip file of every gallery we have available.


or just have a look at a testimonial from one of our premium members:
SpeedDragon wrote:
Before I joined this website I was horrible at making signatures and I had no idea what to do. The beginner tutorials on the main website gave me an amazing start and my sigs where getting better and better.
I decided to become a premium member because of all the exclusive resources and I'm glad I did! All the high quality resources have really boosted my signature making skills and last week I was rated as an intermediate signature designer, thanks a lot ST!
How much does it cost?
You can become a premium member for just $5.
It is an one time fee (no subscription!), so you just pay the 5 dollars once and that's it, once you are a premium member, you will stay one forever!
And don't worry, don't like what you paid for? Just ask your money back! Of course we have a 100% money back guarantee!
How to become a Premium member
We use PayPal to safely handle the money transfer. After you have send us the $5 from your bank account or credit card you will get an automatic welcome email. Using the link provided in this email you can create your premium account.
Click on the button below to pay using PayPal:
Frequently asked questions
I paid, now what?
Once you have paid using paypal, you will get a welcome email that will explain you all you need to know!
What if I don't have a paypal account?
No problem! You can sign up for an paypal account during the progress. Funds can be transferred to your paypal account using your bank account or a credit card.
I don't like paypal, can I use something else to pay?
Nope, at the moment we cam only support Paypal because of the way the site is coded. Why don't you give it a try? Paypal is used by millions of people throughout the world!
How do I get my money back?
Don't like what you paid for? Just send us a mail using the contact form and we will give you a free refund, no questions asked!
If you have any questions, or need help, feel free to send me an email using the contact page!