---
An intro to signature making
You probably have seen signatures being used by people all over the web and now found this guide because you are interested to start creating these small artworks yourself
In this "Getting Started" Guide I will provide you with everything you need to get started  making signatures. Where to get the needed resources, what programs to use, terminology, some basics tutorials. All of this and much more you will learn in this guide!
What are signatures
Signatures are small artworks often made with adobe photoshop that are used in a users "signature area" on forums. Signatures come in different styles and shapes.  Signatures can look photo-realistic, abstract or have a grunge feeling; with signatures everything is possible. Here are some examples of some great signatures, or often called sigs or tags: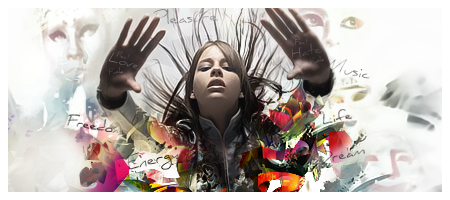 Notice how all of these signatures have different style.
How to make signatures
Almost all signature designers use the program adobe photoshop, you can download a free trial here: adobe photoshop trial
Once the trial has passed you will need to buy the program (which can be done at a huge discount when you're a student) or you can choose a different program. For example Gimp is often used because its much like photoshop and its free. You can download Gimp  here.
The tutorials on this website assume you are using adobe photoshop, but many tutorials on how to create signatures using gimp can be found using google!
You will also need a program to extract the different resources you will download, for this you will need a program that can extract .rar and .zip files. I suggest you to download Winrar (windows) or UnrarX (Mac).

Terminology
When you first browse a forum full of signature designers, your head will start spinning because of the terminology that is being used. But don't let this stop you! You can always do a google search, or just ask someone! Everyone here is willing to help you if you ask it in a friendly way 🙂
Here is a small (and far from complete) list
Tag - other word for signature
Render - a cut out part from a wallpaper, picture, poster that is used as the main focal point in a signature.
Stock - an uneditted wallpaper, photo or pictures that is used in signatures. (often for the background)
C4D render - an abstract 3d looking render made with the program Cinema 4D
ps - photoshop
st - sigtutorials (this site)
C&C - comments and critique
SOTW - signature of the week; a weekly battle in which everyone can participate to become that weeks best signature designer
Know more? Feel free to share in the comments below!

Where to find resources
A good signature designer needs 2 things, good knowledge of the program he is using and good resources to use with that program.  You will need to download brushes, fonts, renders, c4d renders, patterns and much more to really get the best out of  your program.
Especially as a beginner it can be hard to find all these, thats why I have put together a special package that contains everything you will need to get started with making signatures.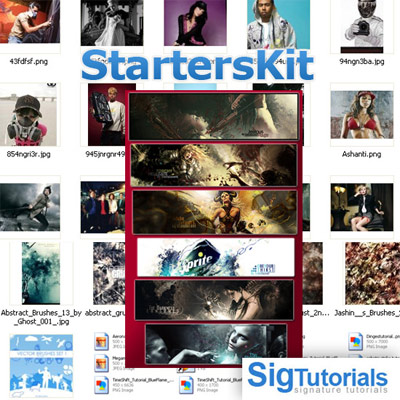 Click on the above picture to download the sigtutorials.com starters kit! This starters kit containts brushes, renders, stocks, tutorials and example .psd files to see how the real pro's create signatures!
Also you can find many good resources in our signature resource section or on our forums.
Tutorials to get started
The best way to learn making signatures is by reading lots of tutorials that will teach you the basics of photoshop and all kinds of techniques.
Just use google and you will find thousands of signature tutorials with the click of a button. But there is a problem, most tutorials are really rubbish and you will only get more confused. How do I know? Because I have been in that exact same situation. Thats why I decided to create this website when I became good with photoshop.
Now 5 years later I'm proud to say that this website is filled with a collection of the best signature tutorials you can find on the web, providing thousands of visitors daily with top quality tutorials!
If you are reading this guide, you are probably still a beginner, so I suggest you to take a look at our beginner signature tutorials. I would suggest you to really check out this beginner tutorial, it is one of the best tutorials on the web and will teach you all the basics of making signatures in a very detailed way!

What to do now
You now have a program to create signatures with, downloaded the needed resources, and have a tutorial in front of you.
Now its time to start creating signatures!
Don't worry, your first signatures will probably look like crap and nothing compared to the signatures you see in this guide, it will take months of practice to get that good. But you will soon find out that its not really about the final result anyway, its just fun doing something creative and seeing you are improving sig by sig.
To get good feedback on your signatures, so you know what to improve I suggest you to join the sigtutorials.com forums. On the forums you can find lots of extra tutorials and resources, and a section with thousands of users waiting to give feedback on your signature!

Good luck and happy sig making!
note: all signatures in this tutorial are collected from different sources and used for decoration and inspiration only, if you are the creator and would like to get credited or your signature removed, please contact me using the contact form
13 Responses »

Trackbacks
Leave a Comment